As terrible as the winter is in Berlin, the summer is so beautiful in this city. For two weeks there is finally bathing weather in Germany again. And the water is not yet bathtub-warm, but no longer freezing cold.
For me, it's time to pack my sketchbook and crayons, hop on my bike and head out to the lake! And of course to one of the many lakes with nudist bathing places. Because I need a bathing suit neither for swimming, nor for drawing 😉
To one of my favorite lakes – the Kaulsdorfer See in the east of Berlin – I need only 30 minutes. There is not only a sunbathing lawn with high grass popular with the gays of the city. The lake also has a real nudist beach to offer on whose sand until the evening the sun shines.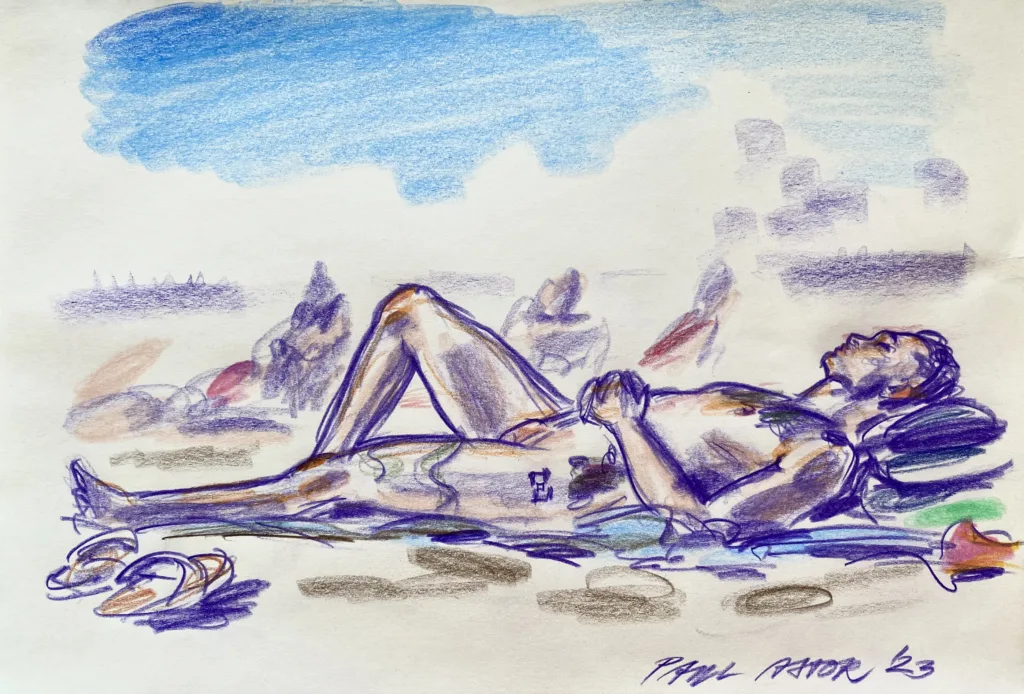 Of course, I look for a strategically favorable place on the beach. Either in the middle of the naturist crowd or a little above with a view over the bathers. The main thing is that there are enough interesting men without swimming trunks in the 10 meter radius. My preferred live-drawing distance.
Just let me jump into the water and let me cool down real quick. Watching out that no water drips on the sketchbook. And then the crayons are unpacked. As soon as I've sorted my crayons into color groups, I'm ready to go. Yellows, greens, blues, browns, purples, and my assortment of pinks, creams, and beiges.
My gaze wanders across the beach and there's always one guy my eye lingers on first. I take a deep breath, exhale and off we go. The young man with the Berghain tattoo I drew here was more or less right in front of me. I showed him and his companion my drawing after he woke up from his siesta. The two were not only happy about the portrait, we also became Instagram friends right away. I'll link his Instagram profile to you right here.
If you have a tip for a nudist lake in Berlin, at which I should definitely draw, please write it to me in the comments! Maybe there is then also soon a pretty drawing of you here on my page.