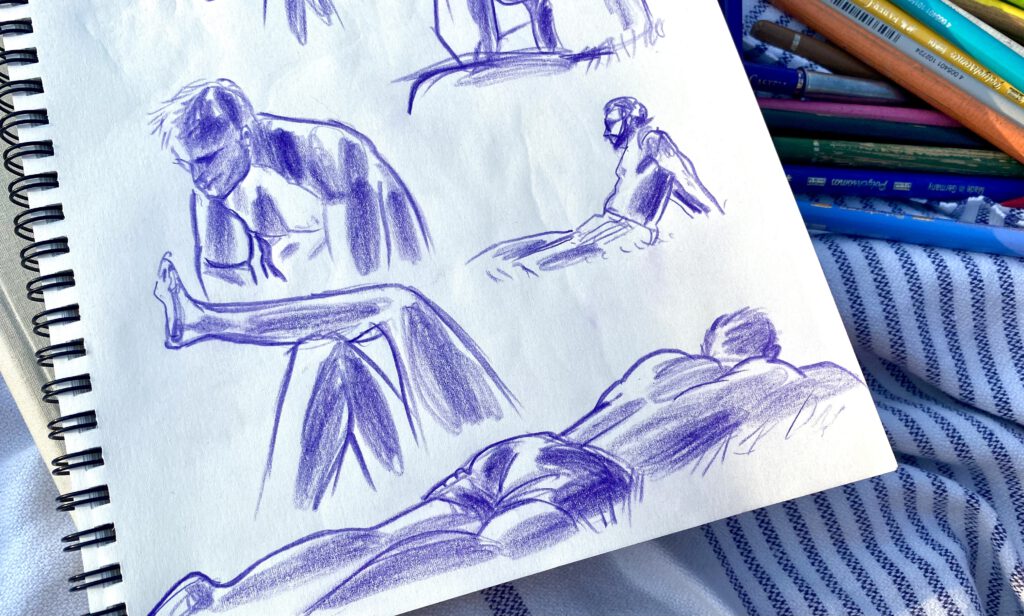 A passion for drawing men
For as long as I can remember I'm completely in love with drawing and painting. If you'd ask my family they would probably say he's drawing since he could hold a pencil as a child – and hasn't ever stopped since that. The two other things I love most are for sure the male body and the sun.
My perfect day is happening on a sunny nude beach – with my sketchbook on my knee. 
So a perfect day for me definitely looks like that: heading to the nude beach (in german its called FKK) with a sketchbook and my crayons in my bag. Rolling out my blanket on a spot where I have enough interesting men in sight around me. Taking off every piece of clothing except from a straw hat. And then starting to draw and sketch and capture the men i see.
Drawing men at a naturist location is always exciting
Drawing the male body could never become boring to me. Especially since I really enjoy the excitement if the man or the men I'm drawing don't actually realize they're portrayed while I'm sketching. Most of the time I'm interested in capturing them in a natural pose – so not actually posing. 
I hope you enjoy the results of my favorite thing to do. And who knows, if you like nude beaches too, maybe you'll appear on one of the pages in my sketchbook soon, too!